School music polos are all about striking the right chord.
As you take to the stage or practice room, you want your ensemble to feel confident, comfortable, and stylish.
It's not just about looking good – it's about feeling great and giving your best performance. That's why we're here to guide you through the latest trends in school music polo.
Musical motifs: Play with flair
Music motifs are a timeless trend in school music polos. Choose elements such as treble clefs, bass clefs, music staves, notes, and instruments to add a touch of musical flair to your polo.
From bold and colourful to understated and elegant, there are endless ways to incorporate these motifs into your music polo design.
We love Freshwater State School's playful take on this trend, featuring silhouette figures pictured with their instruments.
For a more traditional look, stick to musical notes and clefs like Redlynch State College. But, don't be afraid to add some fun elements to your design as well. A scattering of stars or flourishes can add a touch of whimsy to your school music polo.
Music in the round: designing in 360
Unlike traditional polos that focus on a strict front and back design, these shirts feature elements that wrap all around the shirt, encircling the wearer seamlessly.
A 360 design is the perfect choice for those who want to make a bold statement and show off their sense of style in a polished way.
Sarina State School's music polo design features a smooth flow as the music staves from front to back of the shirt, creating a continuous leading line.
Cultural celebration: an infusion of indigenous design
One of the most exciting trends we've seen in school music polo is the combination of Indigenous designs with overlayed musical motifs. The combination of these two elements creates a unique and eye-catching design that speaks to the heart of what music and culture are all about.
So, if you're looking to create a music polo design that is both stylish and meaningful, this type of design is worth exploring.
Unplugged: Keeping things simple.
With a focus on clean lines, classic cuts, and subtle detailing, minimalist design polos offer a timeless look that will never go out of style.
Whether you opt for a solid colour or a subtle pattern, a clean and modern polo is perfect for those who prefer a more understated look that still exudes confidence and style.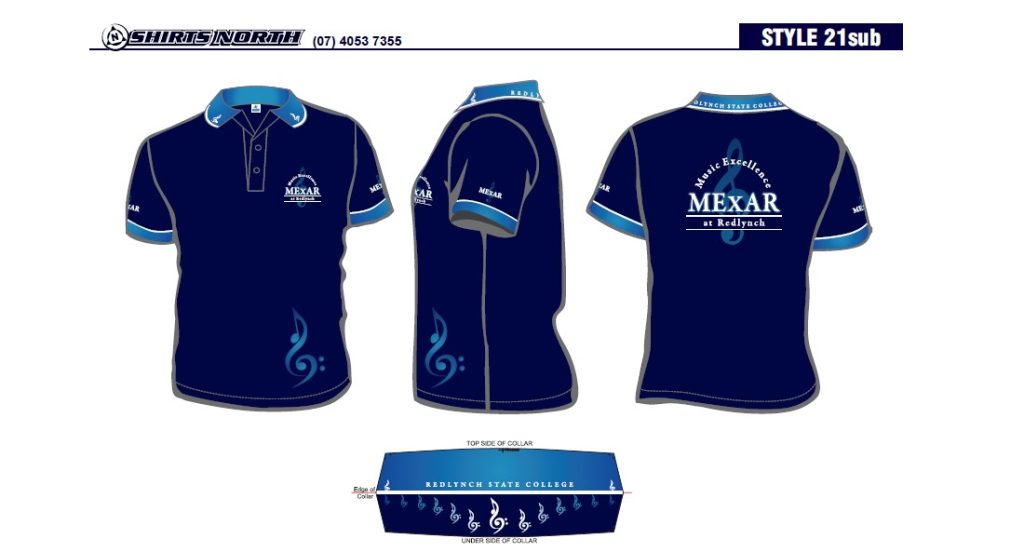 The 1812 Overture: Loud but classic.
Sometimes you just want to capture the energy of the band and loudly proclaim who you are and what you love doing. The 1812 is the design equivalent of cannons, cymbals and a standing ovation. With this trend, you have the freedom to create intricate and eye-catching designs that capture the essence of your team's spirit and style.
By keeping the colour palette minimal, you can go big with various shapes, lines, textures and patterns, allowing your creativity to run wild.
White Rock State School incorporated bold graphics, oversized elements, and detailed designs with a complementary colour palette to create a striking polo.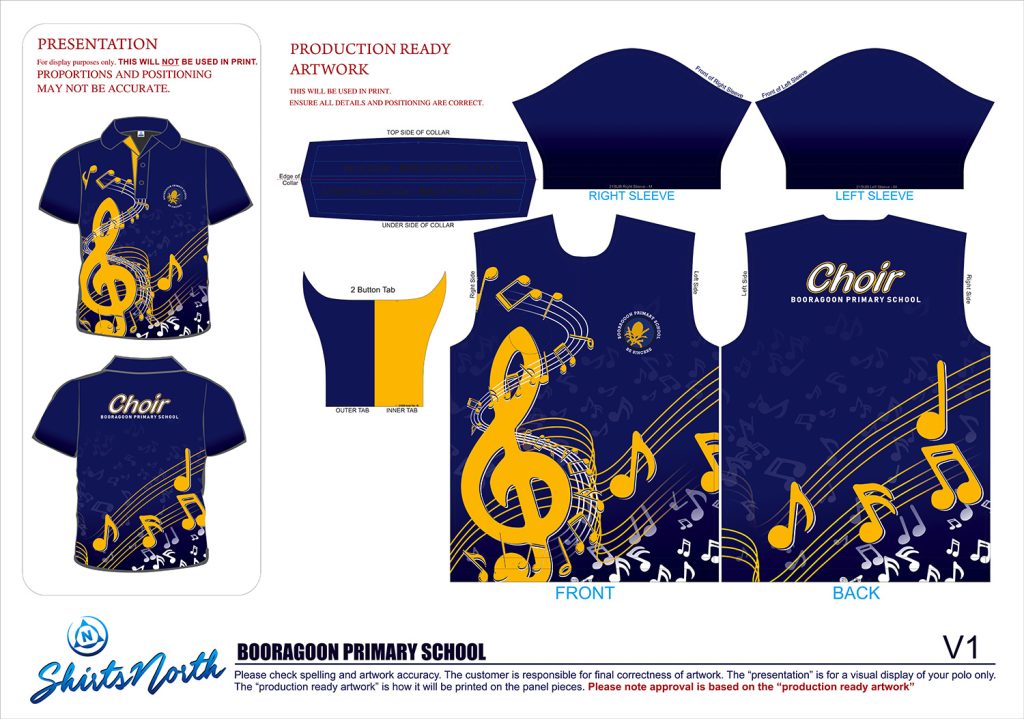 Goldilocks: striking a balance
We like to call this the Goldilocks trend, because it's all about finding that perfect, "just right" design.
The Goldilocks trend offers a cohesive colour palette and an abundance of "negative space" to create a clean look that still packs a punch.
By walking the line between minimalism and maximum impact, the design lets the details speak for themselves without overwhelming the eye.
Take a look at North Shore State School. They use large elements in hamrmonious colours, while still leaving breathing room for the design. Plus, the solid green collar adds a playful pop of colour.
Asymmetrical jazz: Contrasting halves
Diagonal and asymmetric designs are all about creating a dynamic look that catches the eye and adds an edgy vibe to your school music polo. These designs feature diagonal sashes of colourful design or asymmetrical patterns that create a sense of movement and energy.
We saw this approach in our football and basketball jersey trend reports and there's a reason why it's a universal polo favourite. While these designs can be eye-catching, it's important to maintain balance in your overall look. Isabella State School does so perfectly with a splash of design on the front and using sleeves to balance out the asymmetry. Mimicking the front design on the back of the polo keeps everything in proportion too.
Unique arrangements: sleeves, collars and button tabs
Arranging different elements in surprising ways and adding unique touches to collars, button tabs, and sleeves can create real impact. Look to Mission Beach for inspiration on how to level up your school music polo. Their design features a unique contrasting collar trim, personalised collar (even the underside), and a repeated motif on the sleeves.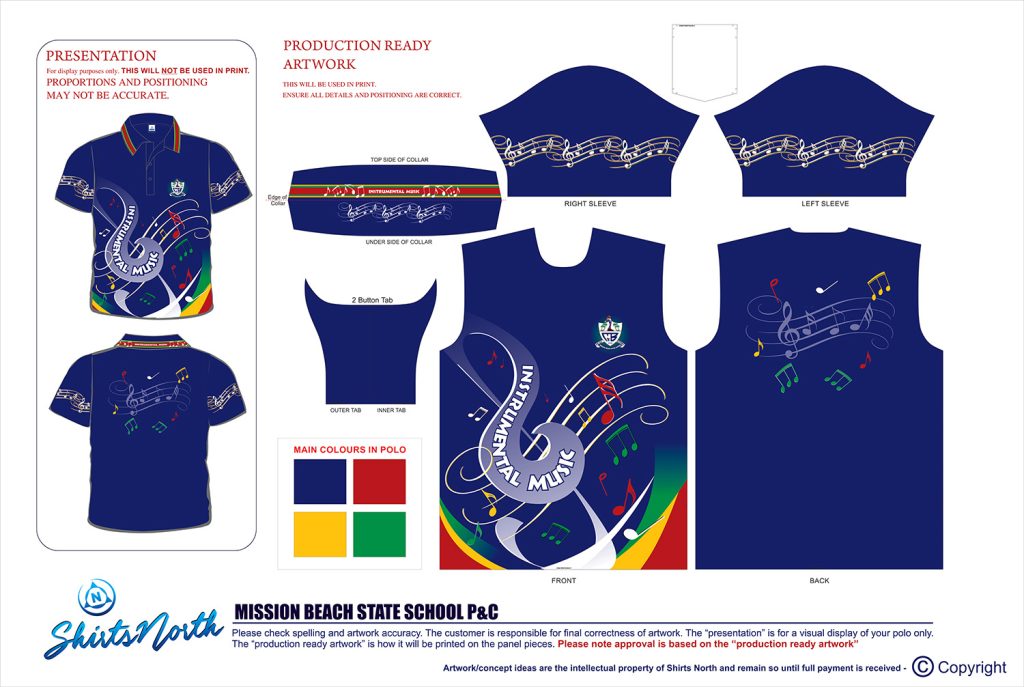 Experiment with gradients, just like Booragoon State School below. By incorporating sleeves that reflect the gradient on the hem, they've created a cohesive look that ties the entire outfit together. And the extra touch of contrast in the button tab, is the real cherry on top.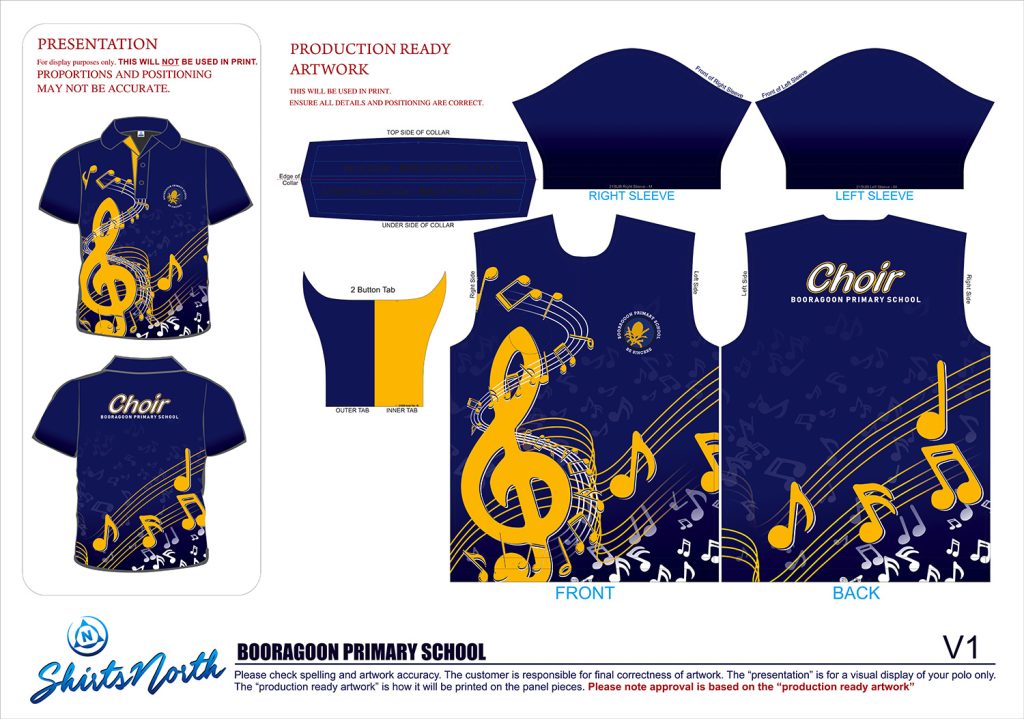 Ready to take the stage?
Feeling inspired and ready to bring your design ideas to life?
Contact the Uniform Link team to create your own custom school music polo.
Our custom polo experts will work with you to bring your vision to reality, ensuring that you look and feel your best from the rehearsal room to competition day and beyond.