Football is known for its flair. And we're not just talking about the way teams play. It's the way they look. Jersey design really is the X factor. It gives teams that professional edge. And when you get it right, it can really put the spring in the step of the players.
So, what's the latest look the big teams are being drawn to?  Take a look at the predictions our Uniform Link design team have highlighted for 2023.
1. Vertical designs
Traditionally, horizontal stripes or multiple vertical stripe designs have dominated football jersey designs.
In 2023 and beyond, we're predicting the rise of uniforms with vertical shapes.
We love how the single, vertical motif creates a minimal, sleek, yet impactful look.
And some of the pros like it too!
We've seen this on the big teams like Germany's World Cup team and Saint-Germain's uniform.
2. Tonal texture
If you're after a clean, modern, and edgy design, look no further than tonal textures.
Add dimension to your team's look and showcase a unique pattern in a refined way with this subtle yet impactful design trend.
Take inspiration from the limited edition 2023 Stockholm jersey or Saudi Arabia's World Cup uniform.
Here's one that our Uniform Link designers created:
3. Asymmetrical design elements
Asymmetrical elements and 'sash-like' designs are becoming increasingly popular and we can see why.
Combined with a simple colour palette, asymmetrical design elements have an effortlessly cool, clean vibe.
Despite the asymmetry, jerseys can still look balanced through considered colour and logo placement. Not to mention, they can highlight your sponsors very effectively!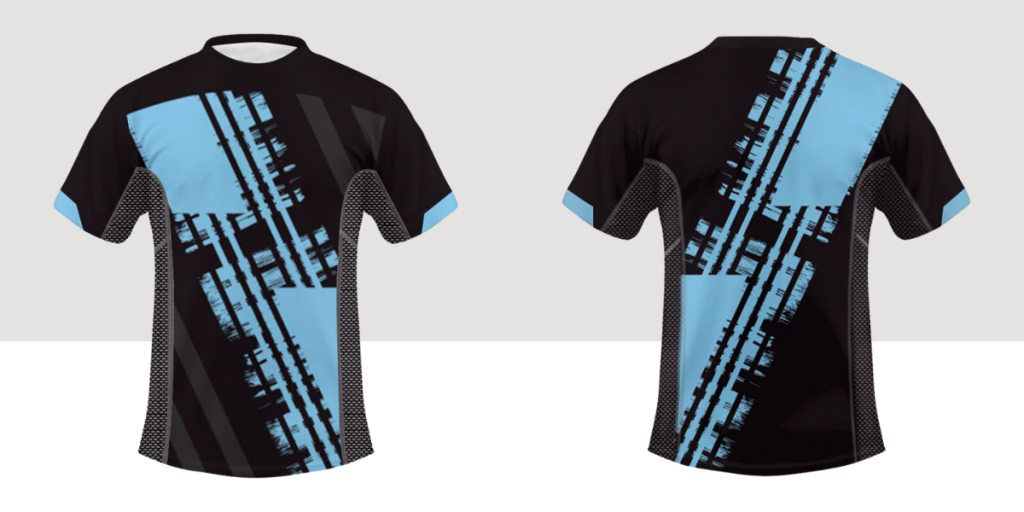 4. Subtle design touches
The trend within the trends is subtlety and cohesiveness. We're predicting a rise in uniforms with simple colour schemes with subtle yet sophisticated accents.  
Take this example below with matching sleeve and neck trims, or add punchy contrast with a bright collar and hem.
The design options are endless, and you can easily create a sharp jersey by implementing this trend in your new custom football jersey design!
Design your jersey with Uniform Link
Look sharp and play sharp with the latest design trends in 2023.
With Uniform Link, you can design a fully customised football jersey for your club that can then be rolled out across your entire club range including playing uniforms, training gear, supporter gear and club merchandise.
Enquire today to ensure your team is ready to kick off the new football season with quality gear and a new confident look, delivered on time.